iBUYPOWER just made its official entry into the Halo Infinite esports scene through a huge streamer tournament. This past weekend, iBUYPOWER blew the Halo community by storm with the $10,000 Infinite Series Invitational Powered by AMD Ryzen.
Halo Infinite Series Invitational
We invited 32 top content creators and Twitch streamers to participate in an exciting $10,000 prize pool event. Powerhouse caster duo Active and Shyway even casted the draft and tournament, ensuring an entertaining show for all. Over the course of a week and a half, we saw creators work together to practice and properly communicate for the big event.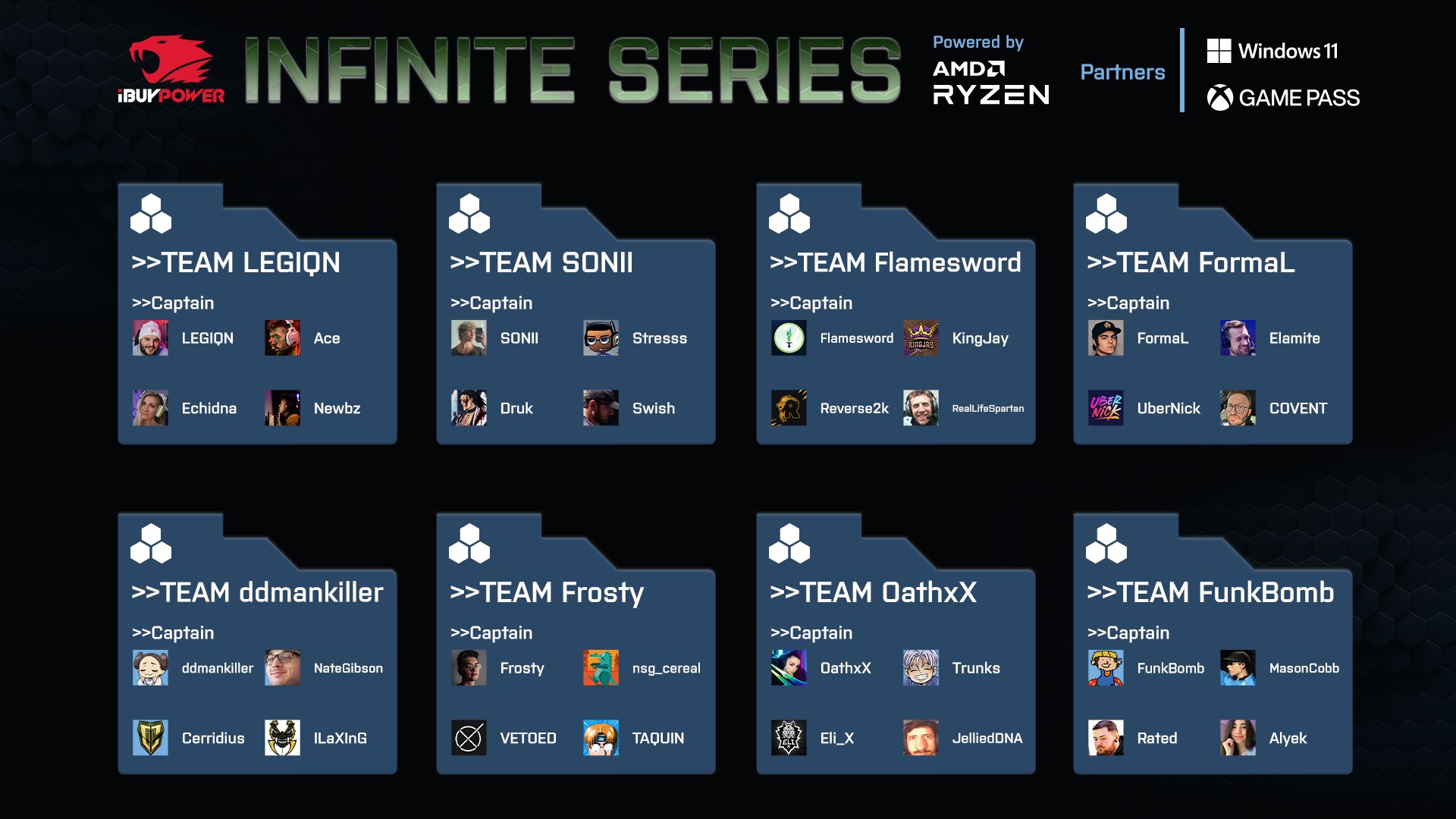 February 25, all eight team captains participated in a draft to decide the other three players on their team. Saturday, March 5 saw all eight teams play three matches each in a Round Robin bracket to determine who will advance. The top four teams making it to the iBUYPOWER Halo Infinite Series Invitational playoffs were led by FormaL, Frosty, Flamesword, and Oath. In the end, Team FormaL (FormaL, Elamite, UberNick, Covent) took first , taking the lion's share of the $10,000 prize pool.
WHAT👏 A👏 TOURNAMENT👏

🏆After a dominant weekend of Halo – Team @FormaL ARE YOUR IBUYPOWER INFINITE SERIES CHAMPS🏆

HUGE shoutout to @AMDRyzen and all the teams that came to compete this weekend!💪 pic.twitter.com/gc37trTcLs

— iBUYPOWER (@iBUYPOWER) March 7, 2022
iBUYPOWER in Esports
iBUYPOWER continues to show more and more dedication to esports. Recent tournaments like the iBUYPOWER CS:GO Mythic Masters and Battlefield Fight Night 2042 Series keeps the brand ahead in competitive gaming. Reaching over 50k tournament views across multiple channels, the iBUYPOWER Halo Infinite Series Invitational Powered by AMD Ryzen was a wild success.
Thank you to our partners AMD Ryzen, Windows, and XBOX Game Pass for helping create this tournament. Look forward to a potential iBUYPOWER return to Halo Infinite esports in the future.
Catch up with all the action on the official website and the VODs on Twitch. Take a peek at our blog to keep up with all our latest news, valuable gaming/streaming tips, partnerships, gaming PC advice, and more.