We're finally at the end of 2021 and it's time we shared all the great events and activations iBUYPOWER participated in!
2021 iBUYPOWER Streamers
iBUYPOWER only continued to grow in 2021 and we showed that with our support to streamers. We signed and re-signed tons of amazing content creators to support their journeys. Top streamers like CohhCarnage, TeeP, Sneaky, BTMC, and more joined and remained as part of the iBUYPOWER family. CS:GO streamer fl0m even participated in Mythic Masters, helping cohost the esports tournament.
iBPCRAFT, the iBUYPOWER Minecraft Server
Still coming back from the effects of COVID-19, we continued shifting gears towards online events and growing our community there. Our first big step for 2021 was the start of iBPCRAFT, the iBUYPOWER Official Minecraft community server powered by Intel Gaming. Chimera of Wonders, the first iBUYPOWER iBPCRAFT original, introduces an exciting oasis with mysterious travelers, hidden treasures, and a new raid!
Between our monthly build offs and prize competitions the action kept going throughout the year. It all peaked with Intel Gamer Days from August 30 to September 3 where iBUYPOWER celebrates 53 days of Intel. Featuring special guests Kaylee Rae Bryson from Toyota Racing Development and music artist Hyper Potions, five days of Minecraft events full of giveaways, surprises, and activity took place.
Anyone is welcome to join our free and friendly Minecraft server. We also included a mechanic to reward player commitment! In-game items can be gathered and traded in for real goods from iBUYPOWER. Join our Discord community to start your journey or join directly from the Minecraft launcher with server address [ibpcraft.mc.gg].
SoCal Flower Festival
Despite the global pandemic stopping most live activity, we still managed to stay involved with the collegiate scene. SoCal Flower Fest, the trademark event for collegiate esports and gaming in Southern California, brought hundreds of competitors and even more visitors. iBUYPOWER was one of the main sponsors for the event, presenting the Teamfight Tactics Tournament. SoCal Flower Festival featured competitive tournaments, artist alleys, giveaways, and more between UCI, UCLA, UCSB, UCR, USC, and CSUN.
High roll your way to the SoCal Flower Fest Teamfight Tactics Tournament on May 29-30 presented by @iBUYPOWER + @intel! 🎲

Show off your tactics and compete for amazing prizes!

🌷 Sign up: https://t.co/utbKDbxmHP
🌷 Join the Discord: https://t.co/NF8n020bAK

Graphic: @bykrissyh pic.twitter.com/tiNCYEuPMa

— TAG @ UCI (@TAGatUCI) May 20, 2021
Hyte Launch
A big new addition to the tech and gaming industry, our sister company Hyte was launched in 2021. Boasting a premier product for its first option, they came in swinging with the Revolt 3 mini-ITX PC case. As the new PC components and lifestyle focused brand for iBUYPOWER, Hyte looks to tap into DIY PC enthusiasts, gamers, and creators alike. Already participating in multiple events in the year, Hyte is sure to bring even more for its 2022 offerings.
AMD Ambassador Program
In a new 2021 initiative to help content creators, iBUYPOWER worked with AMD to launch the AMD Ambassador program. Signing content creator and G4TV host Indiana "Froskurinn" Black was the first move to show off. Keyboard enthusiast Alexander "alexotos" Medeot was next to join, welcoming the niche keyboard enthusiast community. Keep an eye on these creators in the future, especially with what Hyte has in store.
First Annual Car-Board Meetup
iBUYPOWER hosted our first annual Car-Board Meetup in October 2021. Combining keyboard fans with European car enthusiasts at Big SOCAL EURO, we brought out a new setting for two communities to gather. Apiary and AndyVNguyen even came out as co-hosts for the event too, giving out all sorts of prizes. It all ended with fast-paced typing races where the winner got to walk away with a REVOLT 3 ITX case from Hyte.
UCI Esports 2021 Reopening
iBUYPOWER celebrated five years of our partnership with UCI Esports in 2021. Temporarily closing down due to COVID-19, the UCI Esports grand reopening took place in October. Dozens of students lined up to see the exciting systems on display at the UCI Esports Arena. We even had our own iBUYPOWER booth right in front showing off the Hyte Revolt 3 and our new Snowblind case. Our involvement with collegiate esports has a long road ahead.
iBUYPOWER Mythic Masters 2021
Looking to bring back the North American CS:GO esports scene, we brought to a life a new tournament. iBUYPOWER Mythic Masters 2021, powered by Intel and in partnership with Mythic League, revitalized NA CS:GO in November. Dozens of teams participated for a chance to join seven others in a $50,000 prize pool invitational. Kings of Content, MIBR, Team One, Party Astronauts, RBG Esports, Extra Salt, and Team One fought in a two bracket event for PA to come out on top. iBUYPOWER Mythic Masters 2021 ended 2021 as a top CS:GO esports tournament with over 300,000 hours watched.
We're back 😎 iBUYPOWER is proud to announce our return to esports and North American CS:GO with Mythic Masters – Powered by @IntelGaming featuring some of NA's brightest talent.

Find out about Mythic Masters, our sponsors, and schedule of games here: https://t.co/U5eeb5IfCd pic.twitter.com/fT3z3cjYWn

— iBUYPOWER🎄 (@iBUYPOWER) November 4, 2021
WD_Black Fight Night
Throughout 2021, iBUYPOWER took competition to the next level by partnering with WD_Black for the Fight Night saga. Beginning with Fight Night: Series Alpha in April, we saw four total tournaments between Call of Duty and Battlefield 2042. Series Alpha, Series Bravo, Series Delta, and Series Echo brought thousands of fans together for competitive gaming competitions. Each event was open for competitors to participate and get their own shot at glory.
Gear Up, No-Pats. It's 2042.

Compete for $2,000 in CASH and MORE in ultra-competitive 4v4 Rush.@Battlefield FN 2042 SERIES, coming to you December 11-12th and 18-19th. Powered by @wd_black. pic.twitter.com/3by9we3LUV

— iBUYPOWER🎄 (@iBUYPOWER) December 7, 2021
iBUYPOWER 2021 Slate and Trace Case
But we couldn't get where we are without our powerful iBUYPOWER systems meant for PC gaming, esports, streaming, and all sorts of content creation. We launched two new cases to showcase your greatest setups. The Slate 5 MR and Trace 5 MR were the first to come out back in April. Following them, we stepped it up and revamped our case offerings! The Slate Hako MR and Slate Mono MR followed along in September and highlighted new three-dimensional crystalline shapes.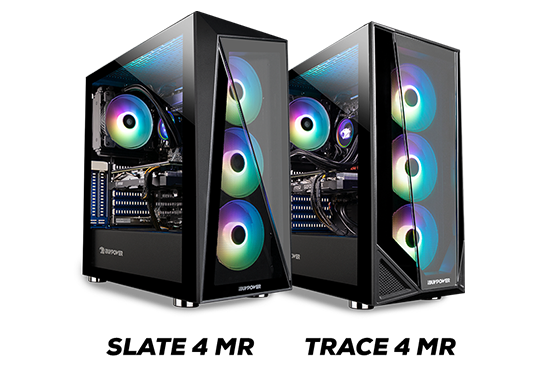 iBUYPOWER ended 2021 strong but that's not all we've got. You don't want to miss our plans for 2022 so stay tuned for what's next.
Looking to level up your game for the next year? Check out our premium iBUYPOWER systems and find your next build to show off! Our iBUYPOWER Christmas and holiday sales continue from January 1 to January 3.