Here's the TL;DR – Don't overthink it and just get a 3070 or 3080 for heaven's sake. I'm not particularly religious, but when I see statements like, "faster than 2080 Ti" and "twice the performance as 2080" then I gotta sit down for a hot sec and question my own perspective on reality for a bit.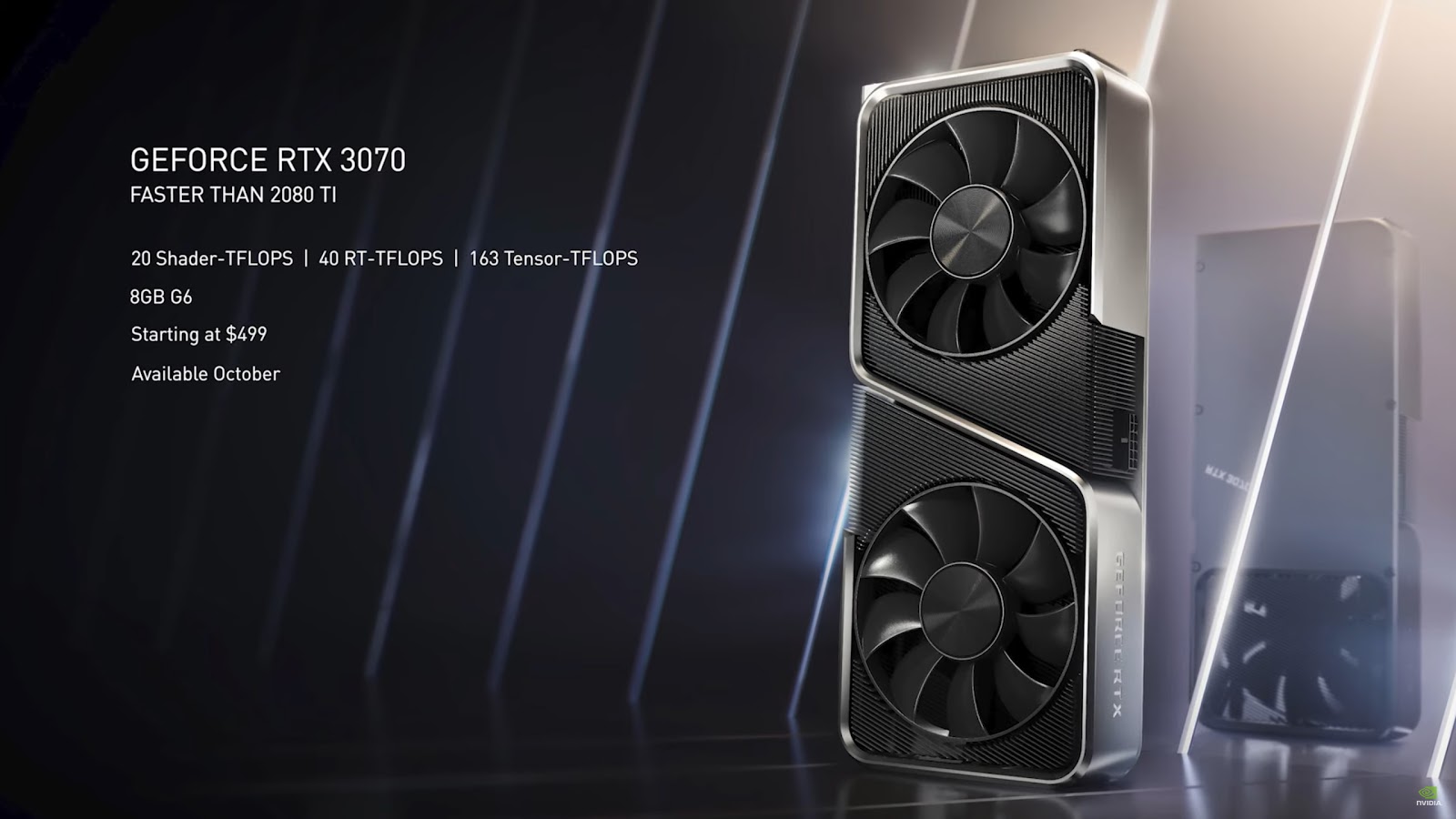 Hyperboles aside, at $499 the GeForce RTX 3070 is feelin' fly like a G6 with 8GB of VRAM and more than enough Flops to rival any soccer montage.
Next on deck is the GeForce RTX 3080. This bombshell of a GPU packs twice the performance of a 2080 (sans Super) with a starting price of $699 and will be available just in time for my mom's birthday on September 17. I'm sure she'll be stoked, she works in IT and has a solid plot of land in Farmville, she gets it.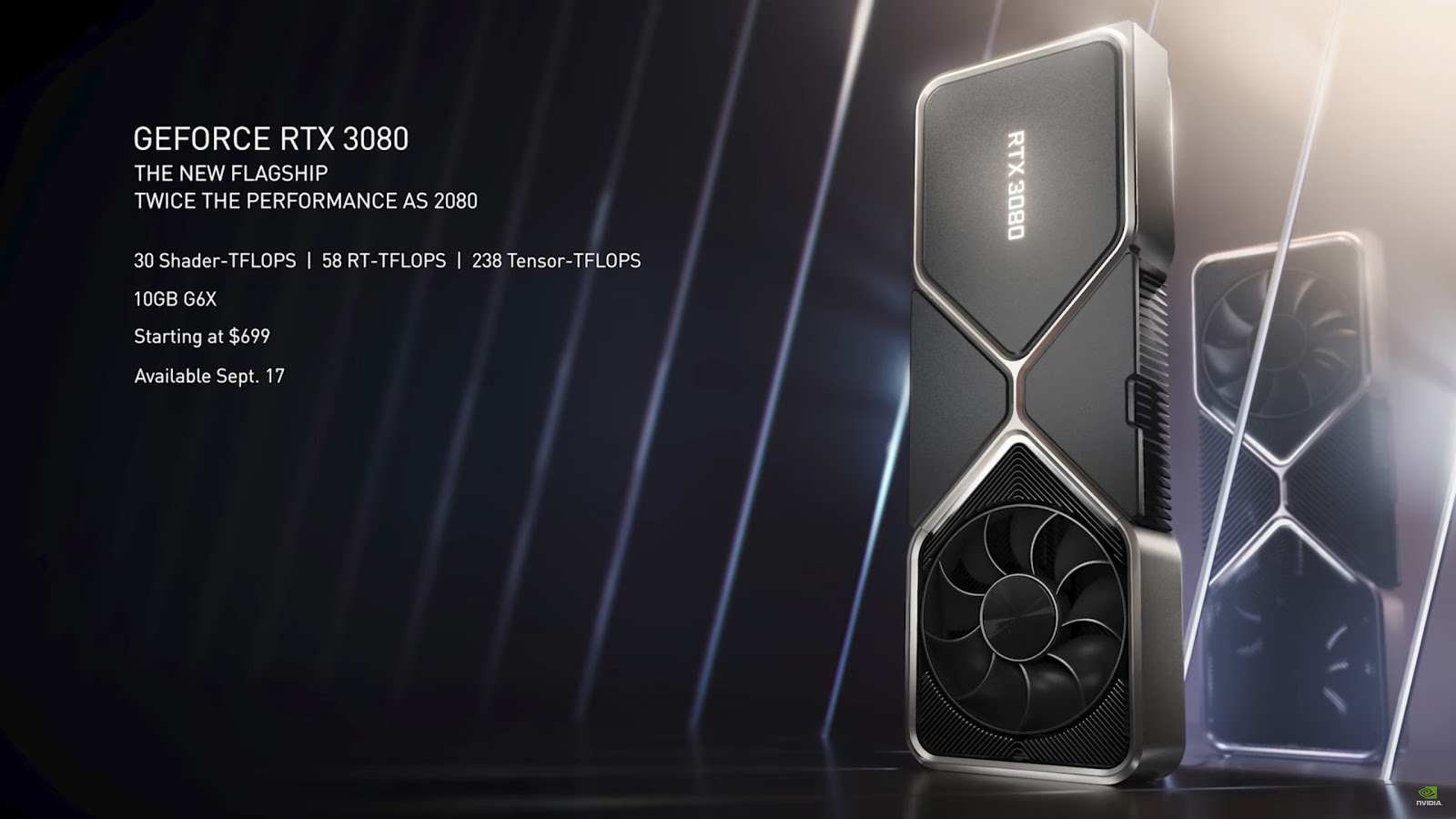 Last but absolutely not least is the so-called "TITAN" of this generation (not to be confused with Colossal Titans, though one could be forgiven from doing so) the GeForce RTX 3090. Designed for content creators and gamers of the most extreme dispositions, the 3090 will cost as much as my first car but will require fewer trips to the mechanic, making the long-term investment a far superior choice. Scoop this solid chunk of titanium alloy on September 24 before every other bitcoin miner does.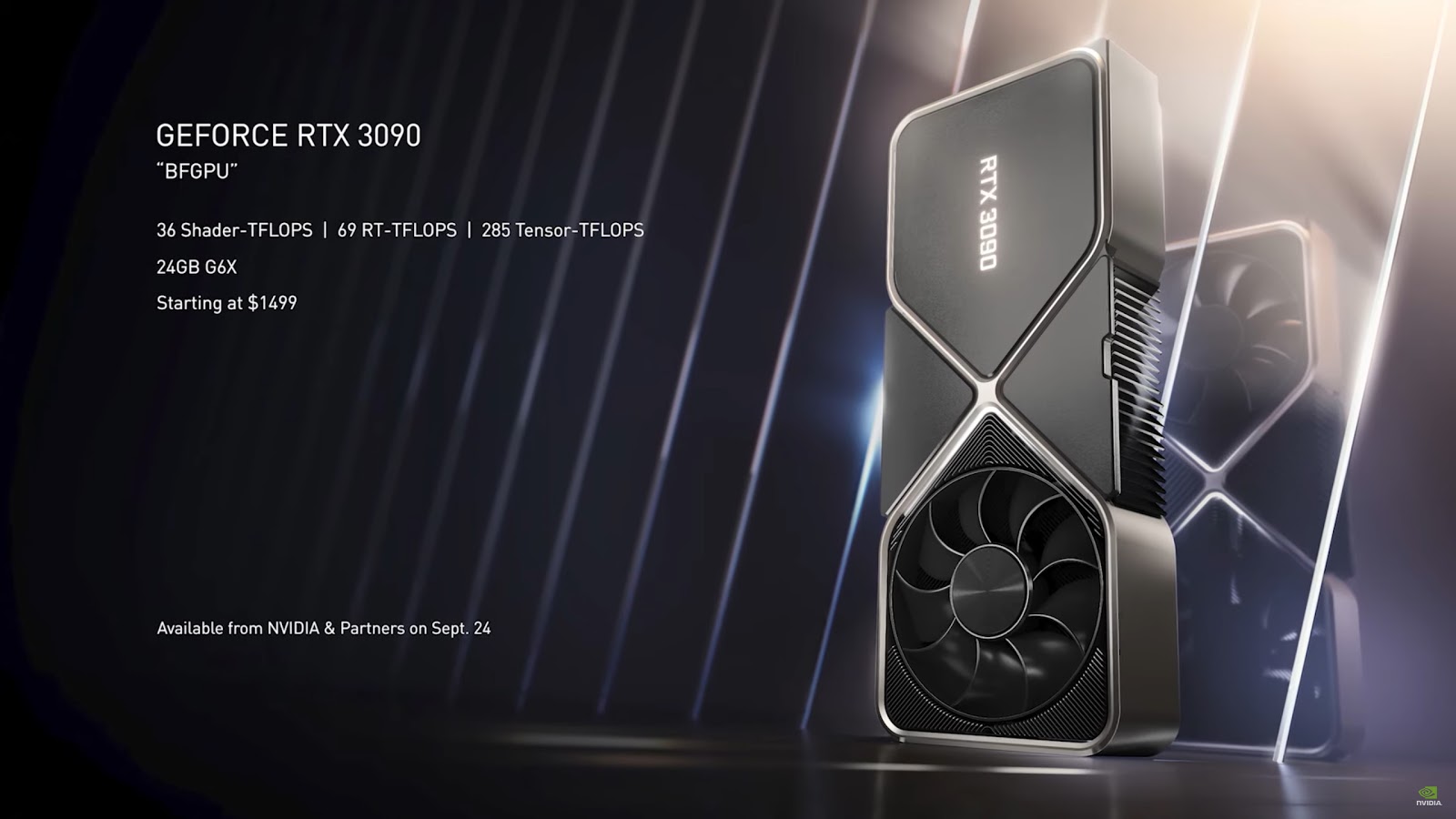 This BFGPU is truly big and ferocious. It'll require a 12pin connector, which is new to many desktop PSU's. The question is: Will we receive an adaptor for those of us with a prebuilt gaming PC, or will I have to phone a friend who actually knows how to build a PC from the ground up. The new series includes a new cooling system with a push-and-pull function on the card; combine that with our recently launched Element CL Liquid Cooling PC, and you'll be chillin' for days as you grind through AAA games with absolutely killer graphics.
Honorable Mentions, Announcements, and Software Releases
For those of you still sticking around to read my maniacal meanders, NVIDIA dropped a few more delicious announcements.
NVIDIA Reflex for Esports and Competitive Gamers
NVIDIA Reflex is looking to reduce latency up to 50% in their next GeForce driving in the upcoming September release date. This software NVIDIA is releasing will shorten the latency of when actions from input to being able to see it on your screen. From listening to one of our iBUYPOWER Content Creator Seagull, this is one of the most anticipated software to come as it will reduce the amount of input lag and stutter in a game like Apex Legends.
As for the casual mention of 360Hz G-SYNC display…weren't we just talking about 240Hz monitors like..yesterday? And now we're getting a reason to throw down on 360Hz monitors?? For simps like myself, this may be a modest increase in refresh rate, but for the esport pros, this is a huge level-up.
Next-Level Broadcasting for PC Streamers and Content Creators
NVIDIA is bringing their noise reduction feature to my next door neighbors who go on blast every time I unmute my mic during a virtual work meeting.
I'm actually not entirely kidding. NVIDIA Broadcast's Noise Reduction features seems pretty legit for streamers inconvenienced by background noise, alongside quite possibly the coolest feature – the virtual background effect. Streamers can achieve the green screen effect without having an actual green screen in the background.
Omniverse Machinima – Real-time Graphics Engines to create cinematic Productions
The NVIDIA GeForce RTX 30 Series Official Launch Event made my brain go full potato while simultaneously getting me pretty stinkin' stoked about the next generation of PC specs and gaming gear. To echo the broadcast, we now have a solid reason to upgrade our 10 series GPUs, while those with a 20 series card may have to do some soul searching.