We're bringing back North American CS:GO esports! iBUYPOWER Mythic Masters powered by Intel and in partnership with Mythic League, came and went last week with a bang.
We're back 😎 iBUYPOWER is proud to announce our return to esports and North American CS:GO with Mythic Masters – Powered by @IntelGaming featuring some of NA's brightest talent.

Find out about Mythic Masters, our sponsors, and schedule of games here: https://t.co/U5eeb5IfCd pic.twitter.com/fT3z3cjYWn

— iBUYPOWER (@iBUYPOWER) November 4, 2021
iBUYPOWER Mythic Masters Powered by Intel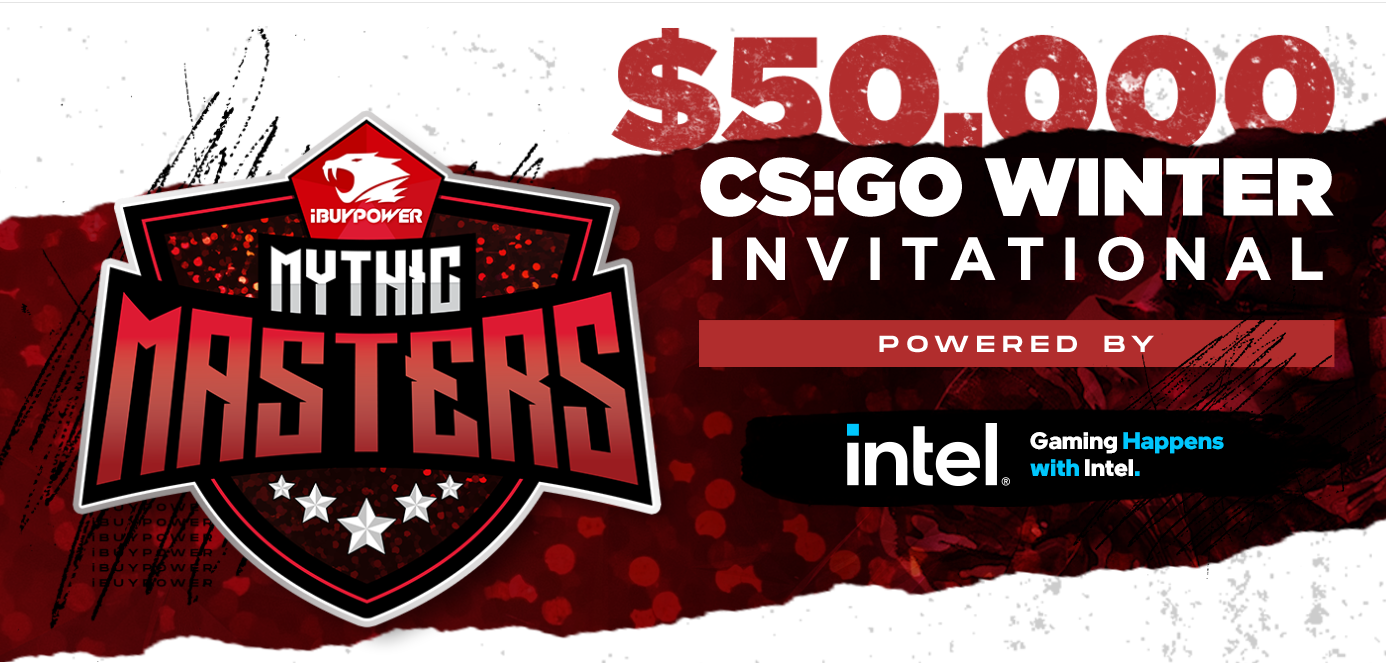 Finishing over the weekend, this tournament marks our re-entry to CS:GO esports and a move to bring back the NA scene. Eight of the best teams fought for their share of a $50,000 prize pool. But in the end, Party Astronauts beat Extra Salt in a 2-0 grand final to take the title.
Of the eight teams, seven were invited with ATK CSGO joining through the Open Qualifier. Running through November 11 to November 14, we saw games full of comebacks, one-sided stomps, and jumping headshot kills.
Notable CS:GO players like FalleN, Stewie2K, Tarik, Brehze, and RUSH even participated in the competition under the Kings of Content team. Team One and MiBR also represented Brazil alongside dedicated Brazilian co-streams.
In total, iBUYPOWER Mythic Masters powered by Intel saw incredible viewership! Across the main stream and all co-streams, the event reached over 70,000 viewers in just the first day. More than 300,000 hours were watched live. One of CS:GO's biggest streamers in fl0m co-hosted the tournament across his 725,000+ Twitch followers, showing the world that iBUYPOWER is back.
iBUYPOWER Black Friday
Looking to play better than ever before? The rest of the month is still open for iBUYPOWER Black Friday sales. Save big on prebuilt computers, customized PCs, and gaming peripherals. The latest Intel 12th Gen systems with Alder Lake processors are in stock too if you want to enter the next generation of gaming.
Black Friday deals are already live on our iBUYPOWER Slate Tempered Glass Cases, iBUYPOWER MEK 3 LT Mechanical Keyboard, and much more through all of November 2021. Even receive a free 2TB Seagate Hard Drive with all custom desktop purchases excluding EZB!
The iBUYPOWER Mythic Masters tournament is all possible thanks to our partners and sponsors, Mythic League, Intel, and WD_BLACK. Finally, shoutout to all eight CS:GO esports teams who competed. Thank you to ATK CSGO, Party Astronauts, RBG Esports, MIBR, Kings of Content, Extra Salt, Bad News Bears, and Team One.
Catch up with all the action on the official website and the VODs on Twitch.