The leading brand in prebuilt PC gaming finally made its return to live events as iBUYPOWER and HYTE, a lifestyle tech brand launched in 2021, held a booth at Anime Expo 2022.
iBUYPOWER and HYTE at Anime Expo
Our booth offered all sorts of exciting activities for con-goers. Between a high-end systems to game on, a free claw machine filled with prizes, influencer and cosplayer interviews, the worldwide launch of the new Hakos Baelz case, and selling merchandise live for the first time, iBUYPOWER brought it all to Anime Expo. Finally, after his tease in Mythic Masters 2021, Peepo finally made his appearance as a plushie for sale.
Sister brand HYTE even joined the iBUYPOWER Anime Expo 2022 booth and showed off their new arsenal of products. In particular, the newly launched HYTE eclipse HG10 headset was a highlight that completely sold out by the end of the event!
The entire weekend culminated with a free iBUYPOWER PC given away. And the best part? All participants needed to do to enter was wear a HYTE tee shirt given away for free throughout the event. One winner walked away with an iBUYPOWER Slate 6 system powered by an RTX 3070 and Intel i9-12900KF.
PC GIVEAWAY GOING DOWN RIGHT NOW AT THE IBUYPOWER BOOTH #AnimeExpo2022 pic.twitter.com/i9Ovfcmbka

— iBUYPOWER recovering from Anime Expo 2022 (@iBUYPOWER) July 3, 2022
Hakos Baelz Y60 Case with Hololive
On top of everything in the booth, iBUYPOWER and HYTE kicked off a partnership with major VTuber agency Hololive. Hakos Baelz, fondly known as Bae, worked with us to create her own custom case and accompanying deskpad. We worked with illustrator Rosuuri and Bae to create this exclusive Y60 PC case that showcases her fun and ratty details.
Already available for pre-order, the Hakos Baelz Y60 Case and Deskpad Bundle is up on the HYTE website. A premium matching deskpad starring Bae herself comes alongside the case. Those seeking a full PC system within only need to wait a few months when iBUYPOWER launches preorders. Bae fans need to act fast since only 3000 Y60 and Deskpad bundles are available worldwide.
ARE YOU READY?!

TIRED OF BORING PC CASES? No need to fret because @iBUYPower, @HYTEBrand and I teamed up to present to you DA CHAOS CASE AND DESKPAD!!!!

Presales start RIGHT NOW!!!! THESE ARE SUPER LIMITED SO GO INFEST YOUR SETUP WITH DA RAT TODAY!!!! https://t.co/Xf2I4QKLlk pic.twitter.com/OGrvdb0d41

— Hakos Baelz🎲holoEN (@hakosbaelz) July 1, 2022
In addition to that, we launched the first of our new collection in mousepads, the CNVS Analog Collection. iBUYPOWER and HYTE worked with six different artists to create CNVS Collection, limited anime-inspired designs on the silky smooth HYTE DP900 deskpad. iBUYPOWER also partnered with NFT Collection Capsule House for a custom PC built live at the show to give away online.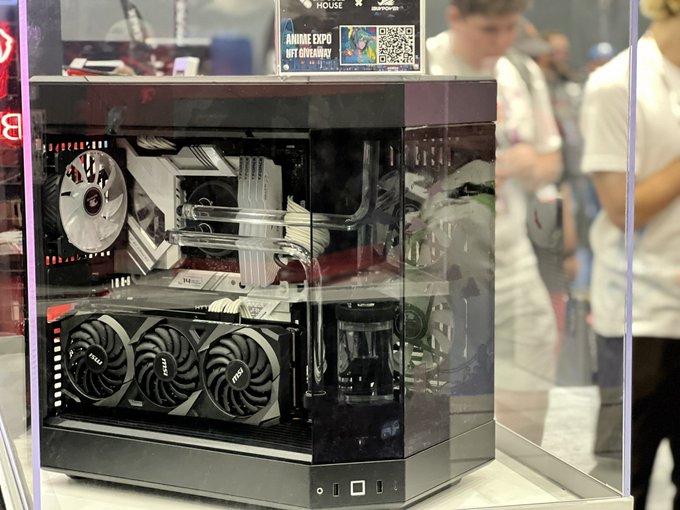 To catch up on all the details, check out the iBUYPOWER Anime Expo 2022 page or follow our social media. If you're looking to get your own top of the line gaming PC system then take a peek at the upcoming iBUYPOWER sales and discounts for Prime Day!