What is TwitchCon San Diego?
TwitchCon San Diego 2022 is finally here and iBUYPOWER attended in multiple locations! The convention gathered the biggest streamers and content creators in the world for an exciting convention full of activity. Between streamer meet and greets, new merch, and a PC giveaway, iBUYPOWER brought a lot to TwitchCon!
twitchcon success ✅

peepo sold out
fun times with @wd_black & @IntelGaming
meeting with our influencers
and most importantly, meeting all of you 🥰

Thank you to everyone who came out and said hi! Till next time~ pic.twitter.com/UYHcZOM3P6

— iBUYPOWER misses TwitchCon (@iBUYPOWER) October 10, 2022
When and Where is TwitchCon San Diego 2022?
TwitchCon 2022 returned to San Diego, California after a two-year hiatus because of the COVID-19 pandemic. This year, the event was hosted at the San Diego Convention Center from October 7th to October 9th.
Visit iBUYPOWER!
Did you see iBUYPOWER and HYTE at our partnered booths during TwitchCon San Diego 2022? We teamed up with WD_Black in Booth #3253 for a PC giveaway and exclusive streamer meet-and-greets with BTMC, TeePee, and Kripparrian.
On top of that, iBUYPOWER worked with Intel at Booth #1605, hosting a powerful streaming pod for Twitch's biggest content creators. Streamers like Krystalogy, JoeWo, and more took over the hottest stream set up in San Diego!
We also sold three custom enamel pins for purchase too! One of these was a HYTE Y60 pin, the result of a special collaboration with PC Master Race. Purchasing the limited-time PCMR pin contributed to charity too! A portion of all funds got donated to the [email protected] charity.
iBUYPOWER at TwitchCon!
PC Build Off with BTMC
Similar to past events like PAX West and Anime Expo, iBUYPOWER brought another PC building competition to TwitchCon. BTMC, an iBUYPOWER-signed streamer and top osu! player, faced off against resident system builder Eric. Although the win was expected, BTMC put up a good and entertaining fight for the con-goers.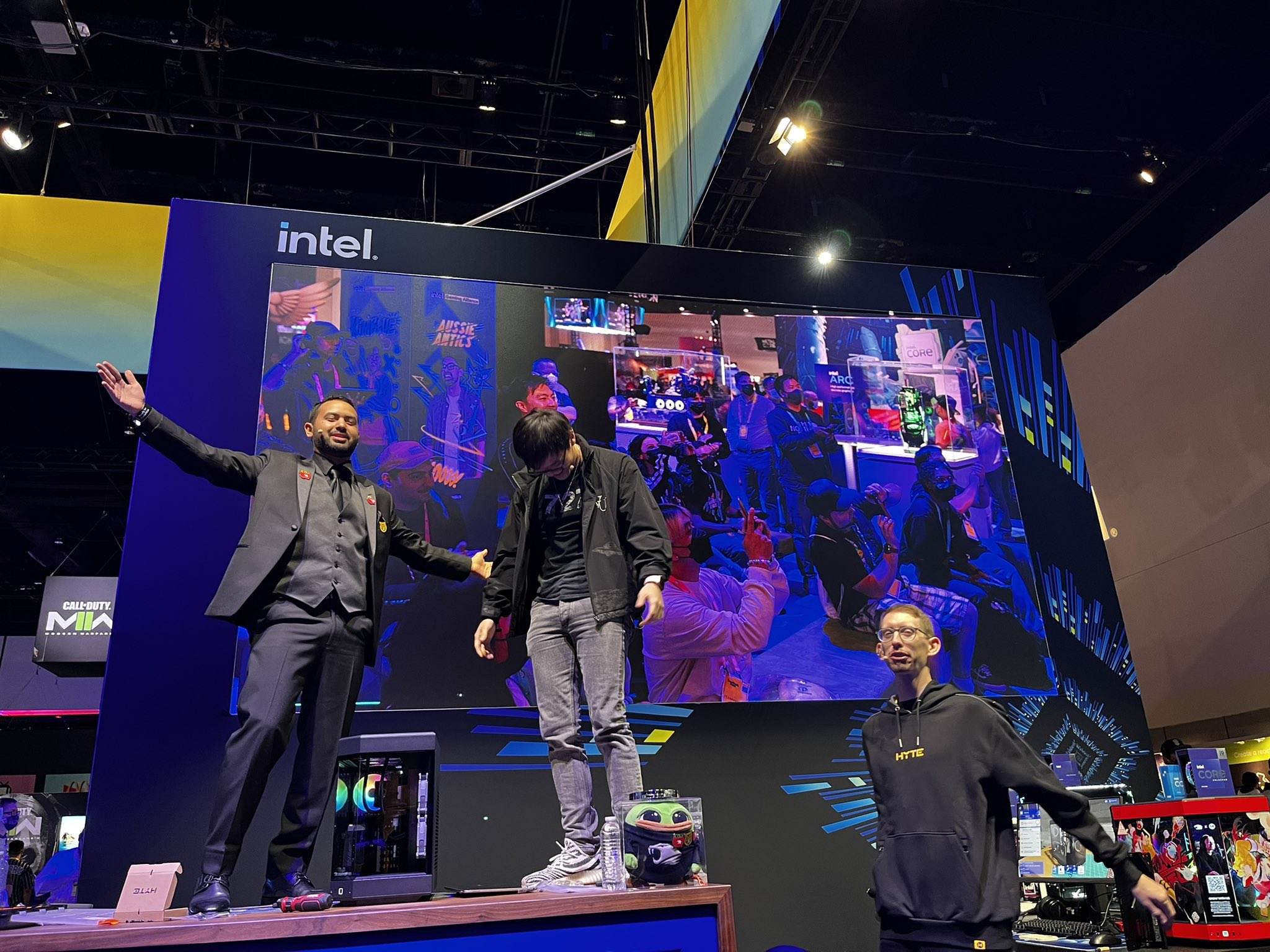 WD_Black PC Giveaway
iBUYPOWER and WD_Black teamed up at TwitchCon and celebrated our booth collab with a PC giveaway! After a brutal loss to them in a paintball match, we lost a friendly wager, leading to a new giveaway from us. This one is already live with a winner chosen on 10/13! The specific PC we're giving away was visible at the WD_Black booth, equipped with a 1 TB SN850X NVMe WD_Black SSD.
✨ ICYMI: After the epic paintball battle with our friends over @wd_black, we are hosting a Game with Us PC Giveaway equipped w/ the brand new1TB SN850X NVMe SSD and an RTX 3070 GPU! 😱

➡️Enter for your chance to win here: https://t.co/gHgJ81kWrS pic.twitter.com/oRAfzigq7F

— iBUYPOWER misses TwitchCon (@iBUYPOWER) September 30, 2022
Intel Stream Pod
Finally, iBUYPOWER received its own presence with Intel through our own streaming pod! Established Twitch influencers and content creators set their own stream schedule at the pod. For three days, we hosted the best of the best in a decked out iBUYPOWER stream set up. Big thank you to ASUS for helping power our stream PC with top notch computer components!
iBUYPOWER at TwitchCon San Diego 2022
With TwitchCon back as a live event, we're thankful we could show everyone a variety of exciting activities planned for the event. Between Intel at Booth #1605 and WD_Black at Booth #3253, so many activities came about. Check out the various giveaways, influencer meetups, new merchandise, and more with iBUYPOWER and HYTE at TwitchCon San Diego 2022!